From a Sci Fi interview with Ron Moore:

Ronald D. Moore, who co-created Fox's two-hour SF backdoor pilot film VIRTUALITY, told SCI FI Wire that the film is gearing up to shoot at the end of this month..."Virtuality is in preproduction," Moore said in an interview at the Television Critics Association's summer press tour in Beverly Hills, Calif., on July 20. "We start shooting the end of the month. We've got a cast. Peter Berg's directing. It's for Fox. It's a completely different kind of show."

Virtuality will air as a movie of the week, Moore added.

That's an interesting tidbit at the end...combining this with Moore's
other statements
last night, and what Fox exec Peter Liguori was
saying earlier
in the week about VIRTUALITY, it sounds like the pilot/movie will be truly unusual television -- and everyone involved needs to see a finished product before there is any news about this going to series.
So cross yer fingers.
From
The Live Feed
:
Sci Fi had a panel for "Caprica" during the network's TCA session, where showrunner Ron Moore and cast members took the stage to answer questions from critics. The project has long been called a two-hour backdoor pilot, and is supposed to air sometime this fall. An upgrade to a series order would likely push its air date until sometime next year, a Sci Fi spokesperson says. Certainly the very act of paneling a mere pilot at the critics tour suggests network enthusiasm for the project.

Moore says that it won't matter that people already know how the prequel story ends. In fact, he's counting on that to add suspense.

..." 'Caprica' is a different animal [from the current series]," he says. "It's about a vibrant society that is at the height of its power and the height of its decadence. It's going to come apart. It's sort of like a roller coaster."

The action will be firmly grounded on the planet of Caprica rather than lots of space-based jumping around between different locations. Executive producer David Eick said technological emphasis in the new show will be on artificial intelligence instead of space travel.

"That's what's new on this show, rather than space travel, which we take as an existing technology," Eick says.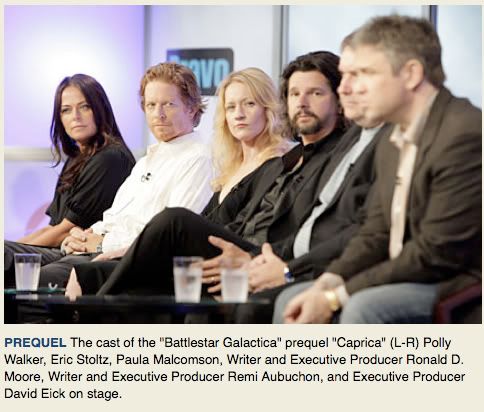 From
TV Week
on CAPRICA:
"The tension comes from the fact that you know where it's going," said executive producer Ronald D. Moore.

"The idea is to say, 'All that you see here is doomed.' There's an ominous (tone)," he said.

Moore compared the situation to producers of war movies.

"You know how World War II is going to turn out. You know the Nazis are going to lose," he said. "That doesn't mean you can't tell compelling stories."

From a
Sci Fi interview
with CAPRICA cast member Eric Stolz:
Stoltz told SCI FI Wire that he will play Daniel Graystone, a wealthy computer whiz who bears a resemblance to a mogul in our universe.

"A lot like Bill Gates, only richer," Stoltz said in an interview.

..."I would say there are two poles that fuel the drama, but I'd be hard pressed one is a good guy and one is a bad guy," Stoltz said. "What it has similar with Battlestar is that there's a gray area. No character is all good or all bad. We all have our gray areas that we live within. But it's interesting that way: You're not quite sure who you should or shouldn't be rooting for."

Unlike Battlestar, Caprica takes place in a world not unlike our own, Stoltz added. "I think Caprica taking place 51 years before Battlestar happens, it's very similar to our society now," he said. "There are no flying cars. There are no spaceships. We're on an Earth-like planet. We wear the same clothes. We have similar problems. Ideally, people will be able to watch Caprica and think, 'This is similar to what we're [doing], to what's happening in the States right now.'"

From
The TV Addict
on CAPRICA:
The clip reel they showed during Sunday's Television Press Tour Panel had a real detective / film noir look to it. Men wear suits, fedoras, and live in a world where people smoke and drink. Plus, they also apparently go to strip clubs, as there was a pretty clear shot of some side boobage. CAPRICA looks to be trying to up the "hot" factor with this spinoff. According to Remi Aubuchon, writer and executive producer, they weren't specifically trying to emulate the look of MAD MEN, but he said that that show and CAPRICA do a "good job of making the viewer realize immediatelty that you're looking at a different era."

...Esai Morales, plays the father of Edward James Olmos' William Adama character, and a young boy plays a version of Olmos' character. Moore quipped, "Eddie wantd to do it. He came in doing one of those things where he's on his knees with the shoes. He's really upset that we didn't use him." When asked why we haven't seen other Adama characters played by Hispanics, Moore said "Well, within the world of Battlestar Galactica, the Adama's aren't Hispanic. He's an immigrant from a colony called Tauron, and he changes his name to Joseph Adama to try and assimilate himself."

And, for fun, BSG writer/producer
Mark Verheiden
(who is currently working on an an additional CAPRICA script) adds his non-spoilery half a cent:
Nothing much I can add, except having read the pilot script, I'll just say Caprica is as fascinating, daring and intriguing as Battlestar, though in a completely different way. I know what you're thinking, what does THAT mean? Is it shot in Smell-o-vision? Do the characters speak backwards? Is it powerful, thought-provoking drama? If you picked "C", you win...

The Hollywood Reporter
mentions that Sci Fi is expanding their brand:
Sci Fi has expanded and reorganized its wide-ranging businesses under a new umbrella, Sci Fi Ventures, it said Sunday at the TCA press tour...

In addition to the cable channel, Sci Fi Ventures is to include Sci Fi Media (SciFi.com, Dvice and Fidgit and a new theatrical film banner, Sci Fi Films); Sci Fi Games (a partnership with Trion Worldwide and an equity stake in BigPoint Games); Sci Fi Gear (licensed product lines); Sci Fi Publishing (Sci Fi/Virgin Comics); and Sci Fi Kids (fantasy and imaginative products for youngsters).

And...OT but fun: LA FEMME NIKITA fans out there take note, they mention working on an original movie featuring Peta Wilson.