We've just received word that BATTLESTAR GALACTICA will probably be completing principal photography on the series finale today. There may be a bit more left to film (2nd unit, pickup shots, etc), but Michael Rymer and most of the cast will be finished shooting at the end of the day.

Fandom is sad, excited, moved…and Sitrep wishes everyone involved with this show much luck in all future endeavors.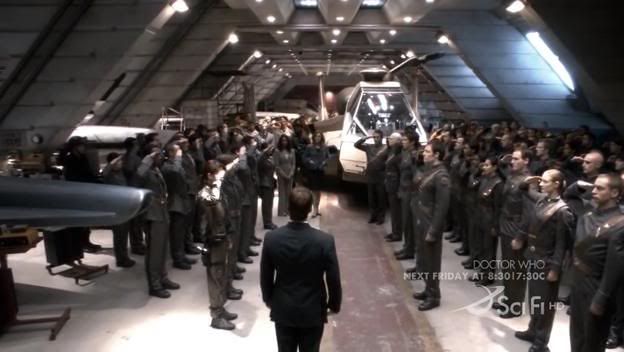 Looking on forward…Collider has reviewed the same CAPRICA pilot script that Sitrep has seen and E!Online has read. Good stuff, we all agree… the new season of USA's BURN NOTICE starts tonight with Tricia Helfer. We have heard that she doesn't have much to do on the first ep but features aplenty in the second. The show's official site has a "Tricia Helfer Trivia" page up… A&E's new show THE CLEANER, starring Benjamin Bratt and featuring Grace Park in a multi-ep arc, premieres July 15. You can see a quick clip of her and Bratt here (click on Grace's photo)... DVR Playground reports that Grace will also be joining the cast of CBC's hit show THE BORDER for a multi-ep arc in season 2… And we are late to report this very excellent news: Callum Keith Rennie has been cast in a major recurring arc on the next season of Showtime's CALIFORNICATION, starring David Duchovny, which apparently returns this September.