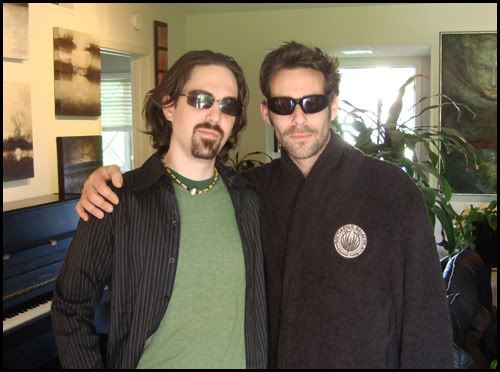 Due to popular demand, G4 Network has posted two more videos from the "Music of BATTLESTAR GALACTICA" concerts in LA last month, this time full videos of entire songs. BSG composer Bear McCreary also notes on his blog that all the video from the concert - including the hilarious "documentary" film screened at the shows -- are candidates for inclusion as extras on upcoming BSG DVD sets:

We are in the process of putting together a video of the complete concert and the documentary we premiered. Fear not. You will all get a chance to see this thing. I don't know how yet… maybe I can convince Universal to include it on the Season 4 DVD, maybe we'll release it online, maybe I'll burn DVDs myself and leave them at bus-stops. But, it will get out there, I promise!

In all seriousness, though… some enthusiastic noise from the fan community will really help get this concert footage on the Season 4 DVD. So, if you want to see this, help out by drumming up some support online.

Sounds like something worth writing to NBC Universal's TV on DVD department about...
doesn't it
?
Meanwhile, for whatever reason, apparently fandom still has not stepped up to give enough pre-orders for production of
this cool FedCon DVD set
to commence. Come on now, fans of Mary McDonnell, Jamie Bamber, Michelle Forbes, Nicki Clyne and Leah Cairns...send in those pre-orders! They are pretty close but not there yet.
Maybe this will encourage you to take the plunge: the DVD producers have now got
a site up
(bilingual English/German) with clips of their
high-quality interview footage
from the con.
All you need to do is send
a pre-order email
, committing to pay a measly $30/20 Euros for 6 hours of footage! And remember to mention if you want NTSC or PAL DVD format.
[Can I get that BSG lounging robe that James Callis is wearing above, at the same shop where Lucy Lawless found her BSG "Frak Me"
hotpants
? Are these on the NBCU online store yet?]