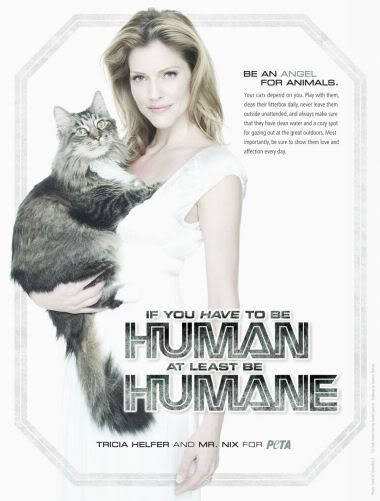 Tricia Helfer and her rescue pet cat Mr. Nix, are appearing in a new PETA ad campaign. More from SciFi Wire:

Tricia Helfer and her rescued cat, Mr. Nix, appear in a new ad for PETA, People for the Ethical Treatment of Animals, urging cat owners to care properly for their animals.

The ad plays on Helfer's character, the murderous Cylon Number Six, and asks people to "Be an Angel for Animals."

"Your cats depend on you," Helfer says in the ad. "Play with them, clean their litterbox daily, never leave them outside unattended, and always make sure they have clean water and a cozy spot for gazing out at the great outdoors. Most importantly, be sure to show them love and affection every day." PETA also urges cat owners to get their animals spayed or neutered.

PETA quoted Helfer, who has six cats, as saying, "Number Six would not be very kind to somebody who abuses animals. She would probably ... do to them what they were doing to the animals."


You can read more about Tricia's PETA involvement, watch a video from the ad photo shoot, and enter a contest to win BSG DVDs
here
.
Tricia recently appeared in
PAWPRINTS Magazine
and revealed her Cat Person side:
"I don't know what it is, but I feel a real affinity toward cats. I feel like I have a personality that's very cat-like. If they don't want to be held, then they don't want to be held. And I kind of feel the same way; I don't want to be touched all the time. I have different moods. And my Chinese sign is the Tiger!"
My cat Pyewacket (also a rescue) approves.
What kind of blogger would I be without doing at least one Caturday post? :)