Time for some convention appearance updates: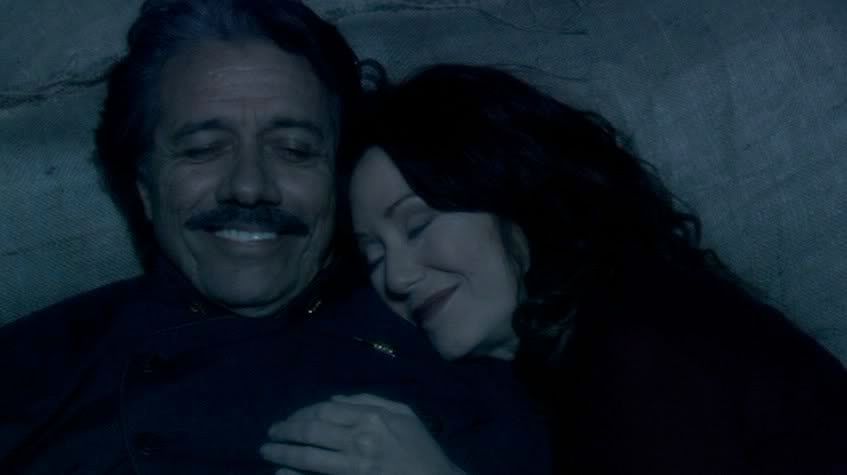 Hopefully scheduling will not get frakked up and this will really happen: Edward James Olmos and Mary McDonnell are booked to guest at JumpCon events in four different cities in late summer and early fall. So say we all. :D

Kandyse McClure is appearing this weekend at the Dallas Comic Con, along with Christina Hendricks (MAD MEN, FIREFLY).

New York Comic Con has announced BSG related events for both Friday night and Saturday afternoon this year:

Friday April 18th, 8:00PM
SCI FRIDAY NIGHT - BATTLESTAR GALACTICA and DOCTOR WHO:
All new episodes of Doctor Who and Battlestar Galactica premiere every Friday on SCI FI. Now Comic Con fans can be the first to catch the latest adventure. Join SCI FI for an exclusive preview screening of Friday night's episodes.

Saturday April 19th, 12:00PM
The SciFi Channel Presents - BATTLESTAR GALACTICA:
Join fans from around the world as the series Entertainment Weekly hails as a "fan-frakking-tastic show on television," returns to New York Comic Con for its 2nd annual appearance.

Pretty vague. But last year turned out to be much fun, with James Callis and Tricia Helfer appearing live and trufan Kevin Smith
moderating
the
discussion
on
stage
. It's only 2 weeks from now – let's hope they get some talent confirmations soon.
Aaron Douglas will be at the
Pittsburgh Comic Con
in late April.
Jamie Bamber was going to the Columbus Sci-Fi Expo in May, but
apparently
the Con has been cancelled.
Lucy Lawless will attend the
Xena Con
in London in May.
Still no word on Katee Sackhoff
joining
the huge
team
of BSG castmembers at
Dragon Con
this August. TBD.
James Callis has been announced as the first confirmed guest for this year's
Creation BSG Con
in Burbank in November.