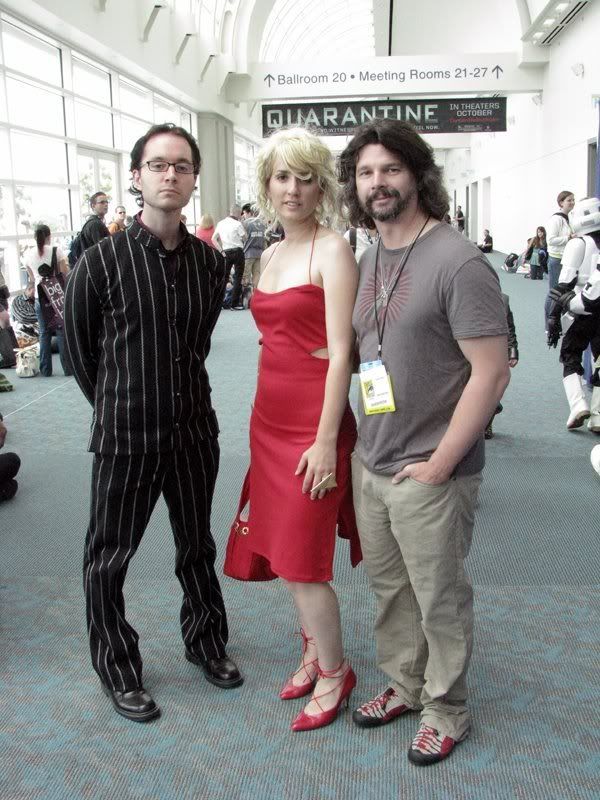 RDM playing nice in the halls of Comic Con 2008...
First bits and pieces of Comic Con 2009 panel info, both
rumored
and officially
announced
, have begun to trickle onto the blogosphere this past week for some of the TV and film projects. I'll be tracking a lot of both over on
FanGrrl Magnet
if you are curious.
But to the question that you dear readers most want here at Sitrep...what about BATTLESTAR GALACTICA and CAPRICA?
Nothing has been announced by Sci Fi/NBCU yet, but
Seat42F
says all nets and studios have had their Comic Con meetings and made their decisions. I've been poking some sources hoping for more info. It's a bit soon to do a CAPRICA panel, given production is starting next month, the cast and crew will be busy, and there wouldn't be any new footage in time for the Con.
My money is on a panel for THE PLAN, which airs this
September
November
on SciFi.
Watch this space...
[Speaking of cons and plans, did you know Ron Moore is the announced Guest Of Honor at this year's
London MCM Expo
? And that Olmos recently said
this
about THE PLAN?]