For those of us who can never make it over to the UK for Sean Harry's fantastic Starfury cons, a fan known as hobbitofkobol has done us a lovely favor and transcribed the sessions at last month's Q&A sessions with Tahmoh Penikett, Nicki Clyne, Jennifer Halley, Michelle Forbes, Katee Sackhoff, James Callis and Mark Sheppard. Terrific photos (some of which we've borrowed here) provided by fan benelie. BRAVO.

By the by if you are in the neighborhood and can get to one of Starfury's events, every fan I've talked to about these cons just loves them. The next BSG one is Mission Starfury in November 2009. Go if you can!

Speaking of good conventions: the New York Comic Con is coming up Feb 6-8. As you can see from their official schedule (and this blog by con Director Lance Festerman) no official BSG panels seem to be happening, which is a shame. Though the con does say: "Most Movie and TV Panels are Still Not Announced – And Will Be Revealed Closer To NYCC."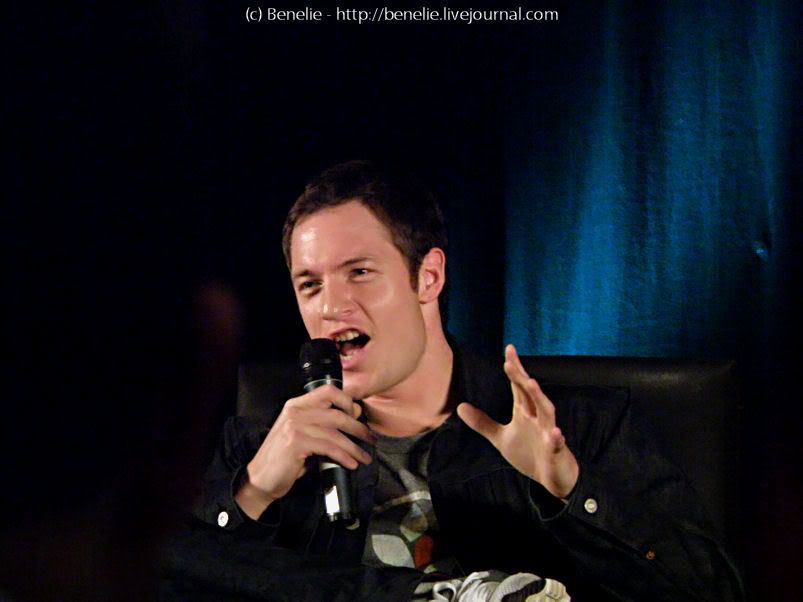 There are some BSG-related events on the books: a ton of BSG comic book related panels; Tahmoh Penikett at a DOLLHOUSE panel with Joss Whedon where they will screen part of the first episode and giveaway some posters; Mark Sheppard at the SEGA booth promoting THE CONDUIT; there is a panel about the web series EMMISARY, which co-stars Aaron Douglas. SuperBSGfan Seth Green and his ROBOT CHICKEN posse are doing a panel as well. Last year's RC panel was the best thing I saw at NYCC last year other than the all-cylon BSG panel, make sure to be there if you're attending!