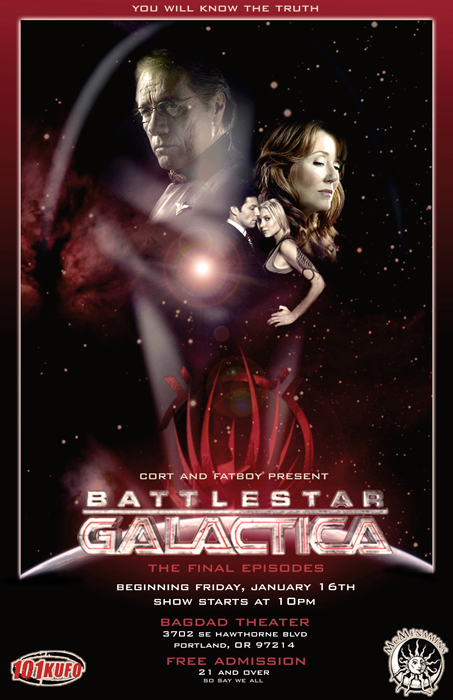 It's time for a Frak Party update, in case you are considering leaving your house on Friday night. Please feel free to chime in about other public Frak Parties in your area.

LOS ANGELES
The BSGcast Frak Party in Pasadena, California – site of the Official BSG Props and Costumes Auction. These guys are screening the show in HD on site at the auction location, and there will be a party as well. They are also doing other events throughout the auction weekend. To RSVP, go to their Facebook page, or send an email to MattAndNat@YourGeekNews.com. This is just a one-weekend event.

PORTLAND
Radio personalities Cort & Fatboy, longtime fannish supporters of all things BSG (especially Katee Sackhoff), are hosting weekly frak parties at a theater that has a brewpub next door! How fun is that? You can download here a big, printable version of their cool poster for the parties (above), designed by Fatboy himself. Mark Verheiden will be attending the Jan. 30th showing of his final episode "The Oath" to watch and do a post-show Q&A.

AUSTIN
The Alamo Drafthouse will be screening BSG throughout the season. I'm jealous of you Austin folks, I hear the Drafthouse is one awesome hang.

VANCOUVER
The 13th Colony is having weekly gatherings for the entire season. They also made a very cool poster for their parties….


Those are the big ones we know about…if you know of others near you, please share!

And for those of you holding your own more intimate gatherings – can we suggest a few BSG drink recepies? And some drinking games to go with them; but don't get too blitzed -- this season is sure to be complicated...