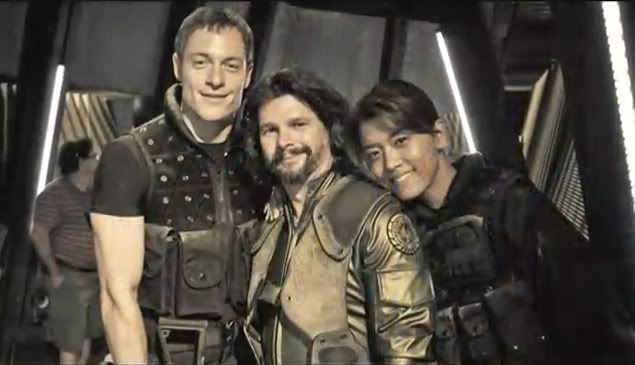 Two new interviews with Ron Moore are on the interwebs as we get to the final weeks of waiting.

This Sci Fi Scanner chat covers a range of topics; Moore opens up about one of the themes of BSG that will actually continue into CAPRICA*:


Scanner: You admitted recently that Battlestar's themes of faith and religion were something the network requested after reading a line in the miniseries. How did it evolve?



Moore: It was very natural. At Trek I was always trying to work in those angles and blur peoples' religions, but it was very much not a part of what Trek was about -- it just wasn't part of Gene's vision. It appealed to me because science fiction shows just didn't go there. I thought the idea of robots who believe in God was just a fascinating concept. And then I really liked the idea of the polytheists versus the monotheists, and that the monotheists were actually the "bad guys" because there's certain repetition in Western society of the one God driving out the many. There were just layers and layers to play with.
[* How do we know this?
See here.
]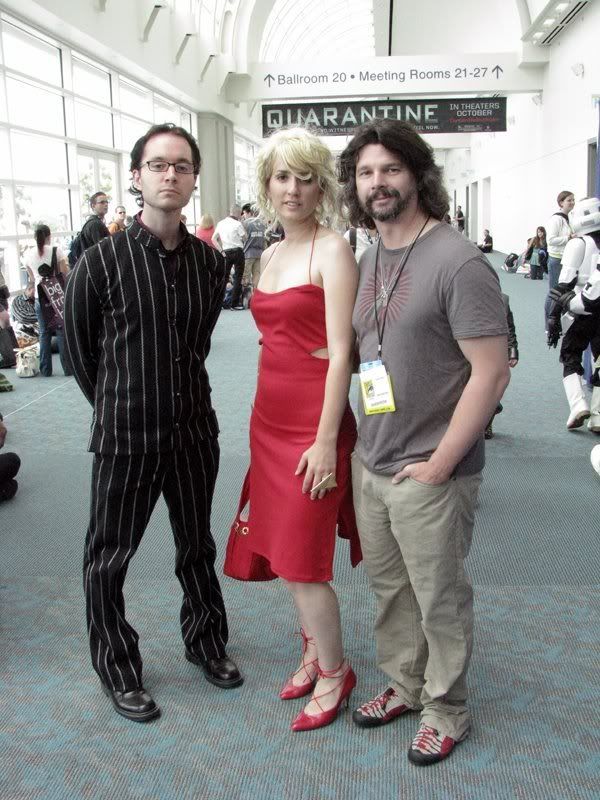 He also addresses two items that some fans have worried over intensely: the final cylon reveal…and Moore's now infamous love of the ending of THE SOPRANOS. To the former, he fesses up that "the 'Who Shot JR' of it all" will undoubtably set some of you viewers up for a letdown (and that the reveal is coming before the end of the series). And as for the fear that he wanted to end his show the way David Chase did?
Moore: I felt like the series I was telling, unlike The Sopranos, had a beginning, middle and end. So as much as I love The Sopranos, I never seriously thought that was an option for us because it's just not part of our narrative. Theirs was about these characters' lives that presumably were going to continue beyond the final fadeout. Our finale will be the end of our narrative, the period at the end of the sentence.

There is also a three-part interview with
Zap2It
. In
part one
, Moore talks mainly about the upcoming TREK movie by JJ Abrams. In
part two
, he discusses CAPRICA and how he felt when the series pickup was confirmed…
"I was delighted when the 'Caprica' pickup came," said Moore. "I was delighted that the 'Battlestar' universe would continue, and I could continue to play in that world, much more than I thought I would. I really thought of them as very separate projects, very separate moods and feelings to them, and I really wasn't connecting one to the other.

But when the pickup came, I'd already completed most of the post-production work on the remaining episodes of 'Galactica.' It was something to look forward to and go, 'Wow, there really is something more to tell in this world.'"

Of course, the whole theme of "Battlestar Galactica" is humanity coping after the fall, but "Caprica" goes back to when the residents of the 12 Colonies are riding high. Asked if this poses a challenge in finding the right tone while retaining the "Galactica" flavor, Moore says, "'Caprica' is a period piece in 'Galactica' terms. The way the pilot turned out, so strong, and the fact that it did feel like it stood on its own two feet and was a genuinely different period of time to deal with...I don't know. I liked the vibe of it."

"I'm very encouraged to see what we can do."
In
part three
, Moore talks about what BSG taught him and the rest of his team about making genre TV, complicated and/or anti-heroic TV characters, getting an audience to follow you anywhere…and how the entire BSG cast and crew took full ownership of their show:
"The hours don't mater; the money doesn't really matter; nothing matters except that credit. You can say, 'I was on that show.' You can look back and say, '"Battlestar Galactica," I'm proud of that.' I wanted everybody to sign on it when they came aboard, and I think they did.
 I think it shows in the product. It is informed by good decisions of hundreds of people beyond me, who made decisions on every little piece, on every prop, on every costume, every visual-effects shot, every sound effect, on and on and on.

All these people took great pride in what they were doing, and they wanted it to be the best it could possibly be."
So say we all.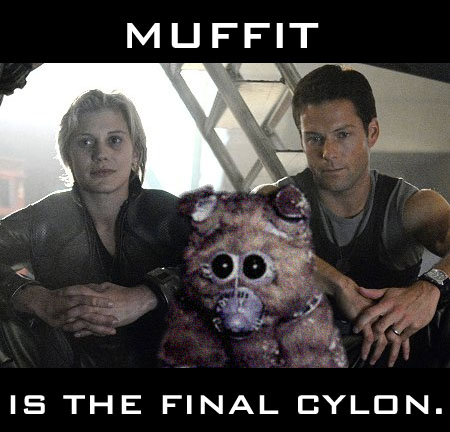 [HT
nerdgod
]