It's a good day when the interwebs can provide Sitrep with enough linkage to make AN ALL-CYLON POST:

While scientists in the real world use cultured neurons to create biological robot brains, we BSG fans have plenty to distract us while we await the cylon overlords (thanks for the link, reader Patrick).

The SciFi Channel/Make Magazine/DVice "Make A Cylon" contest has announced the winners, judged by BSG actors Tricia Helfer and Grace Park. There's a ton of cylon goodness on display over there.



I think that guy who made the amazingly detailed Gold Cylon Commander outfit may have been at Comic-Con leading his troops…and messing with Richard Hatch…

Cylons may play nice with Richard Hatch for the cameras nowadays…but they most definitely DO NOT like DRM.





Did you miss your chance to get the coveted, limited-edition Frakkin Toaster that NBCU was selling during Comic-Con? Live vicariously via these toaster test runs by DVice and io9. Or, as DVice advises, try your luck on ebay.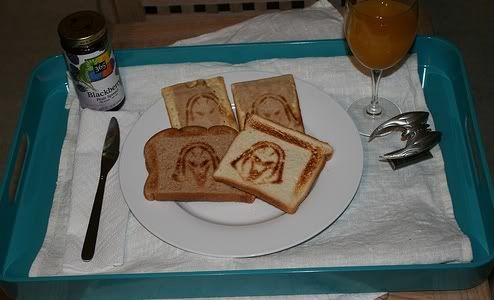 Still not getting enough of a toaster fix? How about this modded CPU from the Japanese site Impress. Or...


The Cylon Bounty Hunter (via SlashFilm)