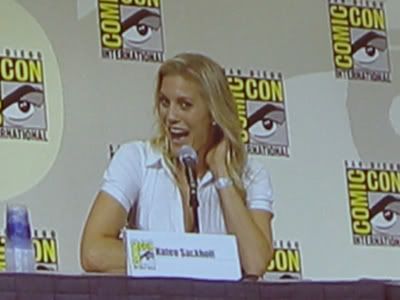 More news and panel recaps from Comic-Con:

Maureen Ryan's reports on the BATTLESTAR GALACTICA panel, and TV panels in general.

The LA Times Hero Complex blog.

Slash Film's Jon Christensen, who just drank the BSG kool-aid last summer, has the most detailed description of the Season 4.5 promo trailer that I've seen thus far. 4 out of 10 on the Sitrep spoiler scale. IGN.com's panel recap is also pretty well-detailed.

Fan reports/photos/videos from withaterrace and own_the_sky. (Photos above from own_the_sky.)

An LA Times post-DOLLHOUSE panel video interview that starts with Joss Whedon (with a bit of Adam Baldwin), and ends with Tahmoh Penikett discussing BSG:




Here is withaterrace's video of Tahmoh Penikett describing how he got his part in DOLLHOUSE:




Joss'd Blog has posted audio of the entire DOLLHOUSE panel.