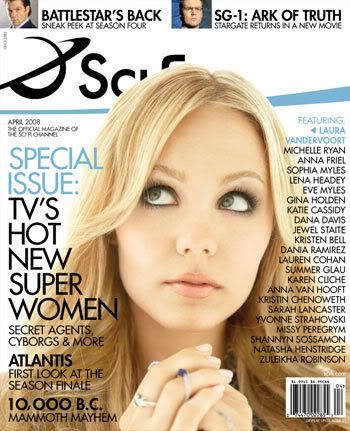 For those of you who subscribe to
Sci Fi Magazine
: keep an eye out for a BATTLESTAR GALACTICA season 4 preview piece in the April issue (cover photo above).
Sci Fi Channel and DirecTV have created a site,
Visions For Tomorrow
, where you can
vote on their poll
of "Top Things to Read, Watch, See, and Do to Save The World," until March 31. BSG is a choice under TV to Watch.
One of our eagle-eyed readers found this Facebook app called
Addicted to Battlestar Galactica
. Obvs you guys need to sign up…
io9
attended a recent talk given by video game designer and visionary Will Wright, inventor of Sim City and The Sims. Wright apparently used BSG and Cylons in his discussions of Sci Fi, transmedia storytelling and the future of the user/ viewer/ gamer experience. Sounds cool – check out the
slide gallery
they posted (see below). Meanwhile,
software coders are using Cylon analogies
at their security conferences...and aca-fan bloggers such as
Queer Geek Theory
ponder even more complicated Cylon metaphors.
Following the recent news that BSG will continue to produce eps and finish with its original full order for season 4,
Crave Online
ponders what many "message board pundits" have been discussing for a while now: will the rag tag fleet find Earth…and has Ron Moore already figured out his end game?
The Battlestar Wiki Blog
is holding a fandom raffle to giveaway copies of the BSG season 3 DVD set, the season 3 soundtrack CD, and a one year membership to their forum. All you have to do is fill out a survey to enter. Which means it might help to also have an opinion.
Blogger
Paul Levinson
at Infinite Regress has a new podcast called
Science Fiction and the New Golden Age of Television
:
It started in the mid-late 1990s with HBO's original series, especially THE SOPRANOS in 1999. This revolution in television - frank, gritty, real, intellectually sophisticated - soon spread to other cable and old-fashioned network television.

In the past few years, science fiction has taken a leading role. In this special podcast - based on a lecture I gave to the Philadelphia Science Fiction Society on 25 January 2008 - I look at the contributions of five science fiction series to this new golden age of television ... LOST, TERMINATOR: THE SARAH CONNOR CHRONICLES, JOURNEYMAN, BATTLESTAR GALACTICA, and HEROES.

Four BSG characters are included on
this blogger's list
of the 20 Most Incredible Sci Fi Women.
Artist
VectorGeek
is working on some neat stuff including desktop wallpapers and viper squadron patches.