I just recently discovered this great BSG comic, Frakking Toasters.

Geek comic artist Joel Watson imagines BSG by Kevin Smith.

The Lucy Lawless Fan Club handed Lucy and her daughter Daisy a video camera to bring to Comicon. This is the result: quicktime / windows media. LOL.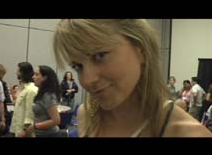 Tom the Dog compares BSG to the short-lived 1990s TV series SPACE: ABOVE AND BEYOND.

Livejournalist and supreme linkmistress meshel73 has found the Jedi Chef photos from this year's Wolf Galactica con. *giggle*

Micahville lists the 7 life lessons she has learned from BSG.

In typical (admirable) fandom fashion, the livejournalists at the battlestar blog are discussing the Season 3 region 1 DVD cover art options, and looking back at previous region 1, 2 and 4 designs for reference. I still like C best.

Watching BSG ponders the question: is Starbuck Col. Tigh's daughter?...and, OT: they found this hilarious Geek Hierarchy chart.