Discover Magazine's blog
Bad Astronomy
just posted the entire "Science of Science Fiction" Con panel video, which includes BATTLESTAR GALACTICA's science advisor Kevin Grazier.
NBC San Diego has video interviews from Con with
Tricia Helfer
,
Jamie Bamber
and
Katee Sackhoff
. [Hat tip to
Morjana
.]
The
BSG blog
tipped us off to the wonderful Con photos by
Angel Ceballos
. Dryope also published
another set of pro pics
from the EW/SciFi party at Con. Scarbuck, a regular on the scifi.com BSG forum who is always sharing his photos, has
a Con set here
.
Right before Con, Comic Mix ran
this terrific interview
with BSG writer/producer Jane Espenson, talking about BSG, BUFFY THE VAMPIRE SLAYER, and how she got into TV writing in the first place. We got distracted by all the shiny shinies this week and forgot to mention it but check it out cuz it's great.
A list of many of the Con interviews that have started to appear all over the nettywebs:
Broadcasting & Cable
spoke with Sci Fi Channel honcho David Howe, which has this interesting exchange:
B&C: How has Comic-Con been for you personally?

Howe: I have to say I'm coming back next year. Three years away is too long.

B&C: Are you going to be happy when everyone knows who the twelfth Cylon is? Will you be happy when the secret is finally out?

Howe: No, I won't be happy because it will be like an end of an era. Nobody wants to see it end. But in the words of Ron Moore, it is kind of gratifying to have closed something, to help finish something, to actually have told the story in a way to reach a satisfactory ending.

B&C: What about the next iteration of "Battlestar?"

Howe: Well, "Caprica's" now a pilot which will be a backdoor two-hour movie. I haven't seen it yet, but we'll get a rough cut in the next couple weeks, but we're very optimistic that will go to series next year.

B&C: Do you see doing for "Battlestar" what they have done with the Star Wars brand?

Howe: We talk about those things, but I think "Battlestar" is such an important landmark show it won't ever die. So it will be kept alive either through ongoing movies, potentially some sort of feature, animated shows. All of those things are up for grabs.
Red Eye Chicago is the Tribune paper that allowed Starbuck fans to vote her
the Best Character on TV last year
. At Con, their reporter found Katee and
gave her a copy of the cover
showing her win, and they also
interviewed her at a roundtable
and got an interesting sort-of-spoiler out of Katee. About a necklace. I give it a 3 out of 10 for vagueness, though it is worrying. Did you know that in this year's Red Eye contest,
Buffy The Vampire Slayer beat out Batman and Superman
to be crowned Best Superhero? Pretty impressive. Meanwhile,
FlickScribe
has some lovely photos of La Sackhoff from backstage after the con panel.
This Xena fansite
has more links for Lucy Lawless (and Sam Raimi) at Con.
I believe we already gave you most of the BSG Con panel recaps earlier. But check out Grant Gould's con
experience
, The Televisionary's panel
recap
, and CHUD's
recap
with a ton of
photos
.
Geekadelphia
links to a con recap & COOL SEASON TWO DVD DEALS.
This fan
has some more great photos.
The entire SMALLVILLE Con panel video is
now online
, and Sam Witwer was there.
Watch With Kristen
recently spoke to Witwer about his new role on the show as superbad Doomsday.
Meanwhile...back on the rest of the internets...Galactica.TV has new interviews up with BSG visionary producer/director
Michael Rymer
, and actors
Kate "Ellen Tigh" Vernon
and
Bodie "Hot Dog" Olmos
.
Syfy Portal
talked to BSG/ST: DS9 actress Nana Visitor about her experience shooting the season four ep "Faith."
Here's a brief glimpse of Bear McCreary hanging out with Shirley Manson on the set of TERMINATOR: THE SARAH CONNOR CHRONICLES,
in a video where
the cast and crew is congradulating their special effects and stunts guys on
Emmy nominations
: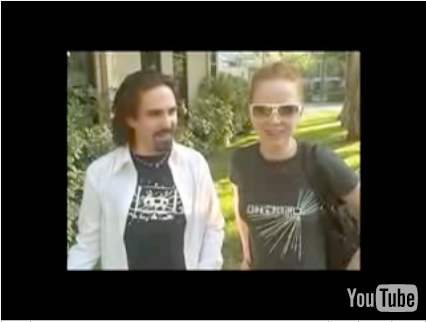 (Btw...lookit how many grrls are in that writers room, kewl right? Former BSG writer Toni Graphia is
still on staff as well
.)
Wired
posted more details of how Freema Ageyman and Jamie Bamber got their jobs on LAW & ORDER: LONDON.
While Sci Fi Channel announces their
continued success
getting young and female viewers to come into the fold, New York Magazine puts BATTLESTAR GALACTICA on their
"SHOWS YOU SHOULD WATCH" index
and illustrates the various things that it, MAD MEN, THE WIRE, LOST, THE SOPRANOS, and other must-see TV has in common.
A
press release
is out announcing the broadcast of BSG season 4 on the Uni HD channel beginning August 30th, which is later than previously announced on UHD's web site.